Estetica

Blogs

Check back for new and beauty feature on new treatments
 Estetica Beauty Clinic's Blog
16.01.2019
We sent one of our therapists, Jess off to Leeds to the IIAA (international institute of anti-ageing) to do her Collagen Stimulation Therapy (CST) training course. The course entailed a recap of the brand Environs award winning skincare routine/products that we provide to our clients here in the salon.
She then learnt all about the amazing CST treatment (can we just say we are really excited to provide this treatment as the results are FAB). What is CST we hear you say….
Collagen Stimulation Therapy is a skin needling treatment created by the pioneer of skin needling Dr Des Fernandes (creator of Environ) that is performed on your face. It has taken the beauty world by storm and many treatments are performed as the results are so amazing! Many celebs have this treatment regularly including the likes of Kim Kardashian.
It is simply the greatest thing since sliced bread for a ageing, scared, thick, pitted, hypo & hyper pigmentation skin, improves skin tone and texture.
Now is THE time to invest your face and look A M A Z I N G.
The treatment itself is quite lengthy so, clear your diary for the afternoon and prepare to glow!
We begin by cleansing the skin multiple times to ensure you are squeaky clean and free of any bacteria, make-up and oils. You then have a topical anesthetic applied to your skin followed by a layer of clingfilm over the top to help the numbing process – this is left on for a hour to ensure your skin is completely desensitized during the treatment.
Once the hour has passed and you are numb, we then get to the exciting part, we begin to use either a roller with needles 1mm in length on the larger area of the face (cheeks & forehead) or a stamping device with a needle length of 1.5mm, this is brill for areas of concern e.g frown lines, crows feet, nose to mouth lines, scaring.
We continue to stamp/roll over the area of skin until either there is plenty of blood on the skin or you have had enough of the sensation. Now you panicked slightly when we mentioned blood didn't you? Let us explain… CST works by rolling over the skin with tiny needles that push their way through the cells walls (not piercing them just slotting through the gaps) creating trauma to the skin which is where the blood comes in to play… the more blood the better! Yes we are aware we sound like vampires saying that but read this next part and you will most definitely lay on the bed and say to us l how much am i bleeding? Keep going!! Basically in a nut shell, when trauma occurs to the skin your blood with a whole army of amazing collagan and elastin creating soldiers rushes to the surface of the skin trying to fix the trauma, which of course the collagen and elastin plumps your skin and give it a more youthful appearance – think babies skin untouched fresh plump loveliness. So the more blood on the surface of the skin – the more soldiers are being sent there to fix the problems.
So are we right, in you want your skin to bleed a lot now?!
Once we have rolled/stamped over all over your skin, your skin is cleansed of the blood and then we apply a product called LACM1 which has brilliant anti bacterial properties to it ensuring your skin is sterile and no bacteria will spread. This is left on for four minutes and we have to warn you…. this part does sting, but it is key to make sure you don't have a outbreak of breakouts post treatment.
Once we remove the LACM1 you then have a Aliginate Masque applied – you will feel like it is a little bit of heaven being placed on your face it is cold and calming perfect for soothing your skin. We leave this god sent product on your skin for 10-20 minutes taking the sting completely out of your face.
Once we remove this is pop on some A,C & E Oil onto your skin which is as it says on the tin, packed with vitamins to enrich your skin and help to hydrate and aid the skin in it's healing process.
Your therapist will then give you home care advice on how to care for your skin after the treatment as once the treatment has ended, you are going to be quite red, slightly swollen and feeling quite tight.  Follow this advice to a t and you will be thanking her later.
This treatment is recommended every 2-7 days for 6 – 12 treatments to see the optimum results and start to live your best flawless skin life!
Here are some photos of before during and after the treatment – if you are squeamish look away!

Stage 1: Anesthetic and cling film is applied to the skin to numb.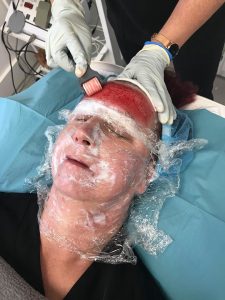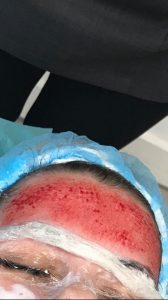 Stage Two: Needling process begins – remember the more blood the better!!
Jess and the other therapist were good bleeders so they will see great results.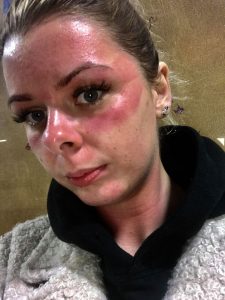 How Jess' skin looked a few hour post treatment. As you can see she is quite red and inflamed.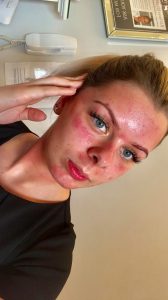 The day after the treatment as you can see she is still quite red however it is a significant change from the previous image, the skin is starting the heal.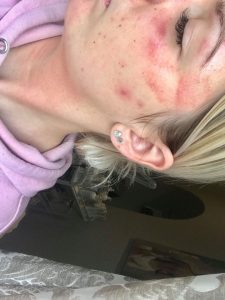 Two days after treatment the skin has calmed down a lot , still a little red and started to dry out and flake a little and the odd break out has happened all of which is a completely normal part of the healing process. It is key you use your Environ vitamin A moisturisers during this time to help speed up getting your skin back to normal, as soon as it feels dry smother your skin in your cream throughout the day.
 Keep your eyes peeled for more updates
xoxo