Dr Anoob Pakkar-Hull.  MB BS, MRCA, EDRA, AAAM 
Medical Aesthetic Consultant
Anoob has 20 years' experience of working in Anaesthesia in the NHS.  He has a specialist interest in Regional Anaesthesia and Acute Pain and has gained the Diploma in Regional Anaesthesia and Acute Pain Management awarded by the European professional body, ESRA.
Anoob continues to work in the NHS alongside practicing as a Medical Aesthetic Consultant.  He has obtained the coveted Diploma in Medical Aesthetics from the American Academy of Aesthetic Medicine and has trained at Harley Street in PDO Thread Lifts and with Professor Bob Khanna in Advanced Botox and Dermal Fillers.
Anoob offers a range of treatments including: Mesotherapy; PDO Threads; Chemical Peels; Fat Reduction Therapy and Hair Loss treatments.
His personalised, results-oriented approach based on quality service and treatments has attracted a loyal client base. Anoob offers a free consultation so that clients can meet and talk through their needs and the best choices of treatments for them, in a relaxed environment.
Rebecca Gledhill
Rebecca is a Registered Mental Health nurse (Bsc) and also a Non-medical prescriber (Msc) and Aesthetic practitioner.
She will be offering a full range of aesthetic procedures here at Estetica.
Here's a little bit of info from Rebecca…
I am extremely passionate about my work and believe that whatever treatment you chose, it should be a relaxing and pampered experience whilst delivering significant results, hence we offer a wide range of treatments.
I will only recommend treatments that I feel will benefit you and address the concerns you have expressed during your initial free face to face consultation.
If you want the natural look using anti-wrinkle injections or the more fuller pout using dermal fillers, I aim to meet your needs ensuring patient safety at all times. I adapt each cosmetic treatment to suit the individual ensuring you receive a completely bespoke service that is tailored to your needs and your desired results.
I am fully insured with Cosmeticinsure Insurance and I am also a member of the ACE complications group and the PIAPA support group.
I welcome any enquiries from any uncertain clients and will go through everything before you decide on which treatment is best for you. I believe in practicing ethically and safely at all times no matter what, this is crucial in the clients aesthetic journey.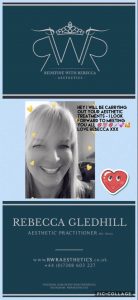 Fire & Ice Treatment  - Foaming Enzyme Optimising Treatment Facial
£95.00
RESULTS-DRIVEN  I  BRIGHTENING  I  TIGHTENING  I CLARIFYING
Pioneered in Beverly Hills and coveted by A listers globally, this
infamous intensive treatment is clinically formulated with the purest
pharmaceutical grade ingredients and designed to rapidly and safely resurface the skin, reduce fine lines, address problematic skin and
encourage cellular renewal. The centre piece of this remarkable system is a combination of two treatment masques; This treatment is complemented by a unique combination of cosmeceutical serums & crèmes to guarantee one of the most effective results driven facials you'll ever experience
Juviderm Fillers/Lip Fillers
£190.00
As one of our most popular cosmetic procedures, this treatment has helped countless clients feel more confident and happier in their own skin. Our team works closely with each client to understand exactly what they're looking for and ensure they get exactly those result
We use Botox ( Allergan ) for our anti-wrinkle treatments. All our clients will have an initial consultation with the Doctor in order to tailor for their requirements. We also do a two week follow up appointment to ensure satisfaction and review.
This treatment has very little downtime and is individually tailored to each person. Clients can rest assured that our beautiful, clean and private facilities will ensure their highest level of comfort. To learn more about how this service can be personalized for your unique needs, feel free to reach out today.